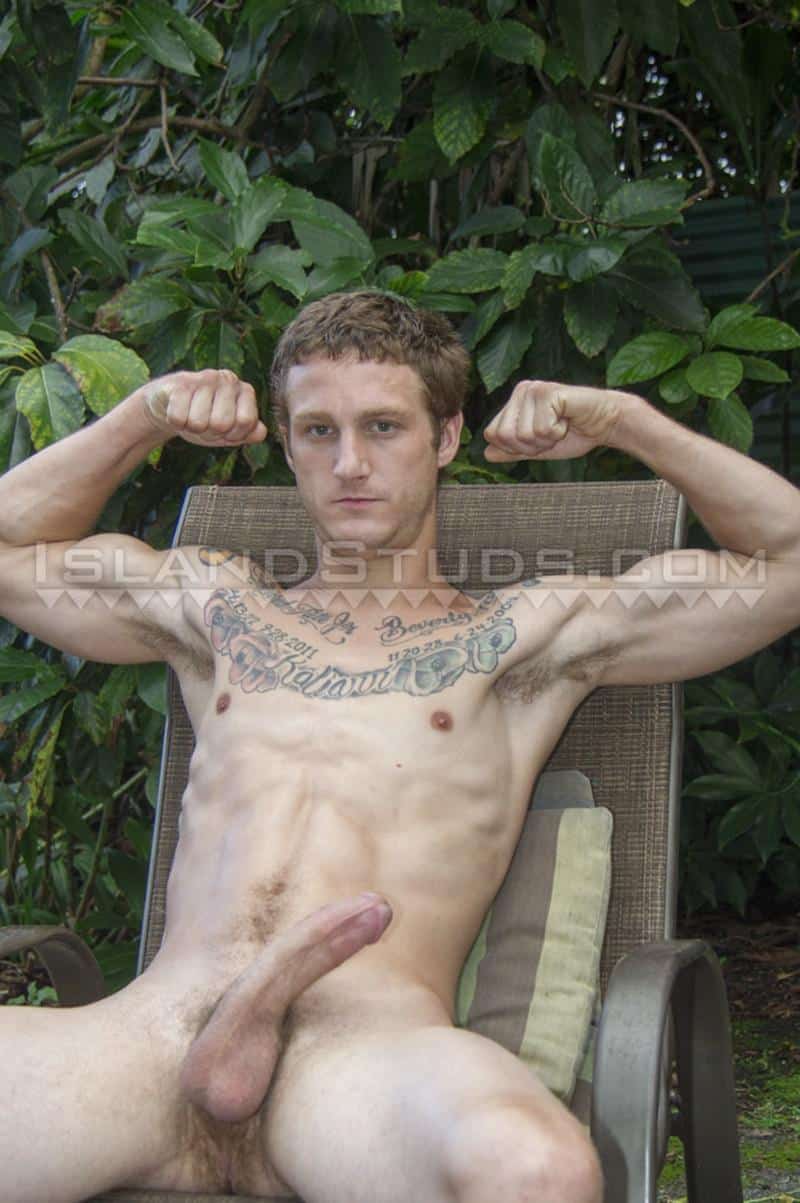 Cocky straight blue-collar young dad Dakota strips bare wanking his huge 8 inch dick to a cum explosion
Island Studs says: Hot straight blue-collar stud Dakota strips nude stroking out a huge 8 inch dick spraying jizz all over his balls.
This rugged, young horny father of 4 kids is one our most popular blue-collar dads with his cocky attitude, smooth, tight lean carpenter body and not forgetting his famous super thick 8-inch boner and big donkey balls.
He strokes and manhandles, stands fully clothed with his red hot throbber hangin' out of his unzipped open red shorts, flexes and poses in sexy tight blue underwear and fully nude with a full throbbing erection and big balls dangling between his tan thighs.
He really gives us a "swingin' cock and balls fest", then gets down and dirty for a hot, sweaty nudist garden work session, bending over repeatedly to show off his creamy white ass and perfectly pink daddy hole with "balls a swingin", parades around the garden with a boner wearing only black work gloves and shoes, cleans up in shower #1.
Dakota sits down on a chair outside for a lengthy edging jerk off and ball tugging session erupts with multiple powerful fountains of jizz that coat his chest, belly, and massive cock, before taking a sexy cum dripping outdoor shower, with his hard cock still throbbing as he washes his feet, takes a powerful shower piss and turns his fine blue collar butt to the camera to clean it out and open his hairy hole for us all to see.
Horny big dick Dakota is a big cummer and keeps his fat 8″ cock rock hard throughout most of this video! This is one sexy, rugged, blue-collar video!
Now 28 years old, 5 ft 8 inch, and a tight 150lbs, this is Dakota's last day of his Hawaiian vacation before returning to his job in carpentry with his dad, remodeling kitchens and bathrooms, his 4 kids and pregnant girlfriend in Oregon.